Sin City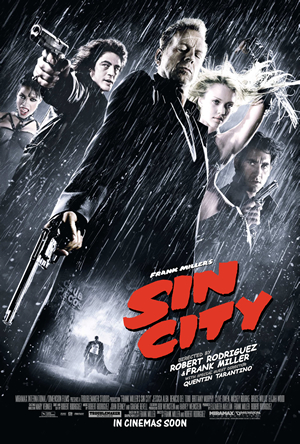 Trailer
I never knew of the graphic novel before this film appeared so watched it with no prior knowledge or expectations. All I knew was that stylistically it was trying to look like a comic. I think the film definitely achieved that and it looked really great but once you get over the initial amazement of how it looks the film is pretty average.

The film is a dramatic thriller rather than being an action thriller I think. It looks into the lives of three men and how their relation with women has affected them…sounds like it could be your average run of the mill romantic comedy from that description but I assure you it isn't, far from it actually. It is quite an interesting take on how passionate but strong male characters are enriched and then destroyed by their love of a woman but without all the patronising soppiness.

The film is quite dark in places but I think it loses some of its edge due to some of the rather bad acting although surprisingly I thought Bruce Willis was one of the better actors in the film; but that may have just been because he was caste quite well into one his "roughed up cop" roles.

The film is based on 3 linked stories and I think it suffers from an extremely prolonged middle section which to me also had some of the worst acting (mainly Clive Owen and his dodgy accent). I think if things had been focussed more on the main underlying plot a bit more then Sin City could've been excellent. But I don't think it managed to lock all 3 stories together cleverly enough. Although I didn't find the film fantastic I would still recommend it on the basis that it does keep you entertained and the end does pull itself together quite well. Mickey Rourke is excellent and if nothing else the film must be given credit for its unique style and approach.